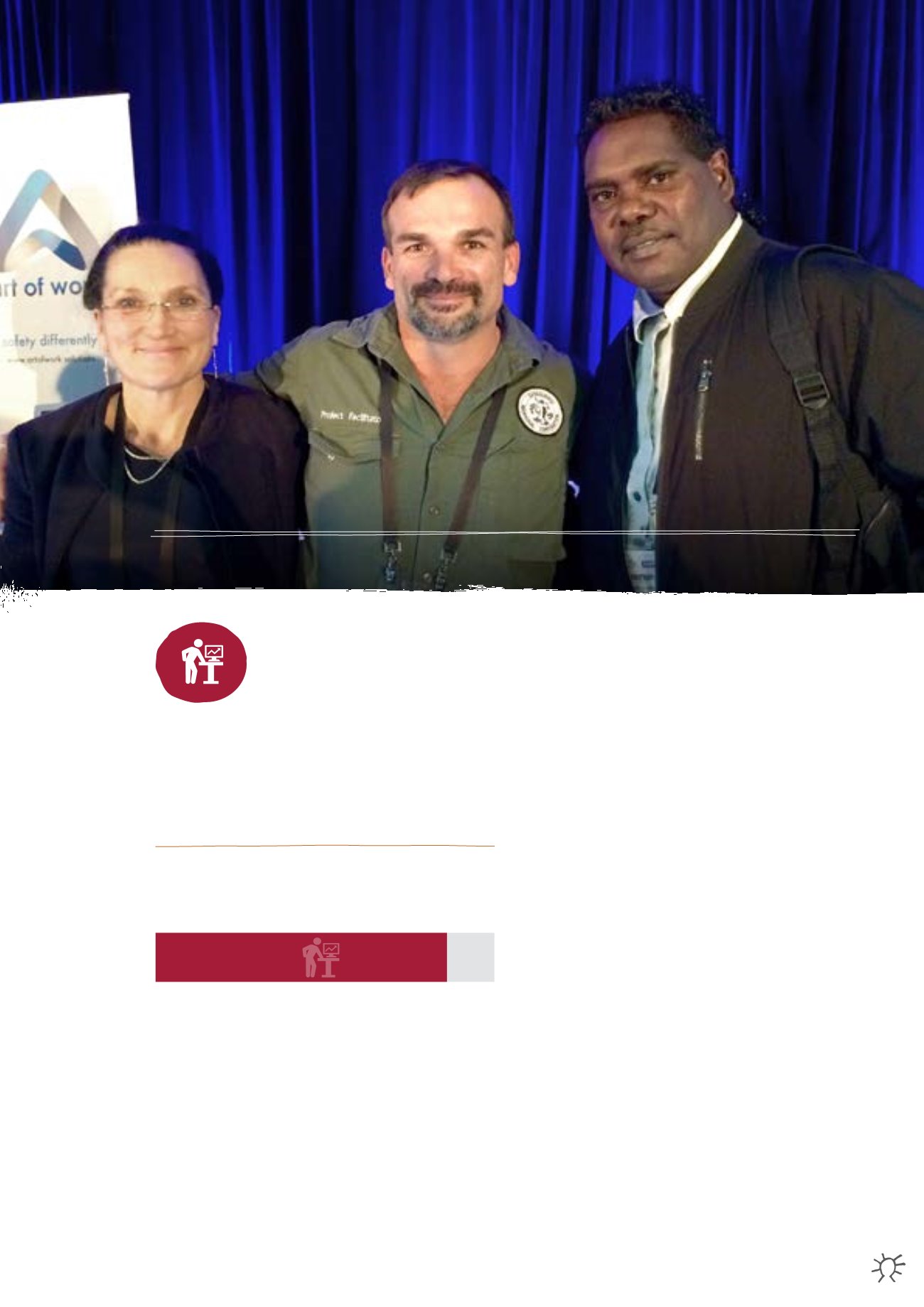 Systems
Policies, procedures and processes for
managing money, people, performance and
knowledge—'systems' give an organisation the
effectiveness it needs to operate day in, day out.
When KPMG looked at Jawun's role in
strengthening organisational capacity, they found
that as a result of the partnership with Jawun:
organisations reported an uplift in systems
86%
>
SOURCE: KPMG (2015),
IMPACT EVALUATION OF JAWUN
, EXECUTIVE
SUMMARY, P. 3.
Ngarrindjeri Regional Authority
The Ngarrindjeri Regional Authority in South
Australia stands for over 12 community organisations
who, as the Ngarrindjeri Nation, seek to identify,
act and organise as one. From its origins, it had a
vision of a shared services model that would reduce
the costs of duplication and strengthen operational
collaboration, but it was not until the first round of
Jawun secondees in 2015 that this took shape.
After those secondees presented a comprehensive
review of the operational and funding constraints
faced by Ngarrindjeri Regional Authority
organisations, it was agreed that establishing shared
services was a priority. Since then, a stream of
secondees worked to establish shared services models
for the core organisational functions: finance, human
resources, insurance and IT. They analysed needs as
well as market options to find solutions that would
save costs and create efficiencies. Implementation is
expected to trigger significant service improvements
for each organisation—and enable them to live up to
their mission to organise as one.
CEO of Ngopamuldi Aboriginal Corporation Derek
Walker said, 'The Jawun mob bring an expertise and
a level of understanding around systems. When you
have groups like BCG and Westpac and Bendigo
Bank, and people of that ilk, they have a professional
way of going about business and a set of skills that's
really helpful to us.'
Safe Work Australia secondee Peta Miller with Dhimurru Aboriginal Corporation's Paul Augustin (centre), and Thomas Amagula at the
Safety Institute of Australia's national convention, 2016.
2. STRENGTHENING INDIGENOUS ORGANISATIONS 29