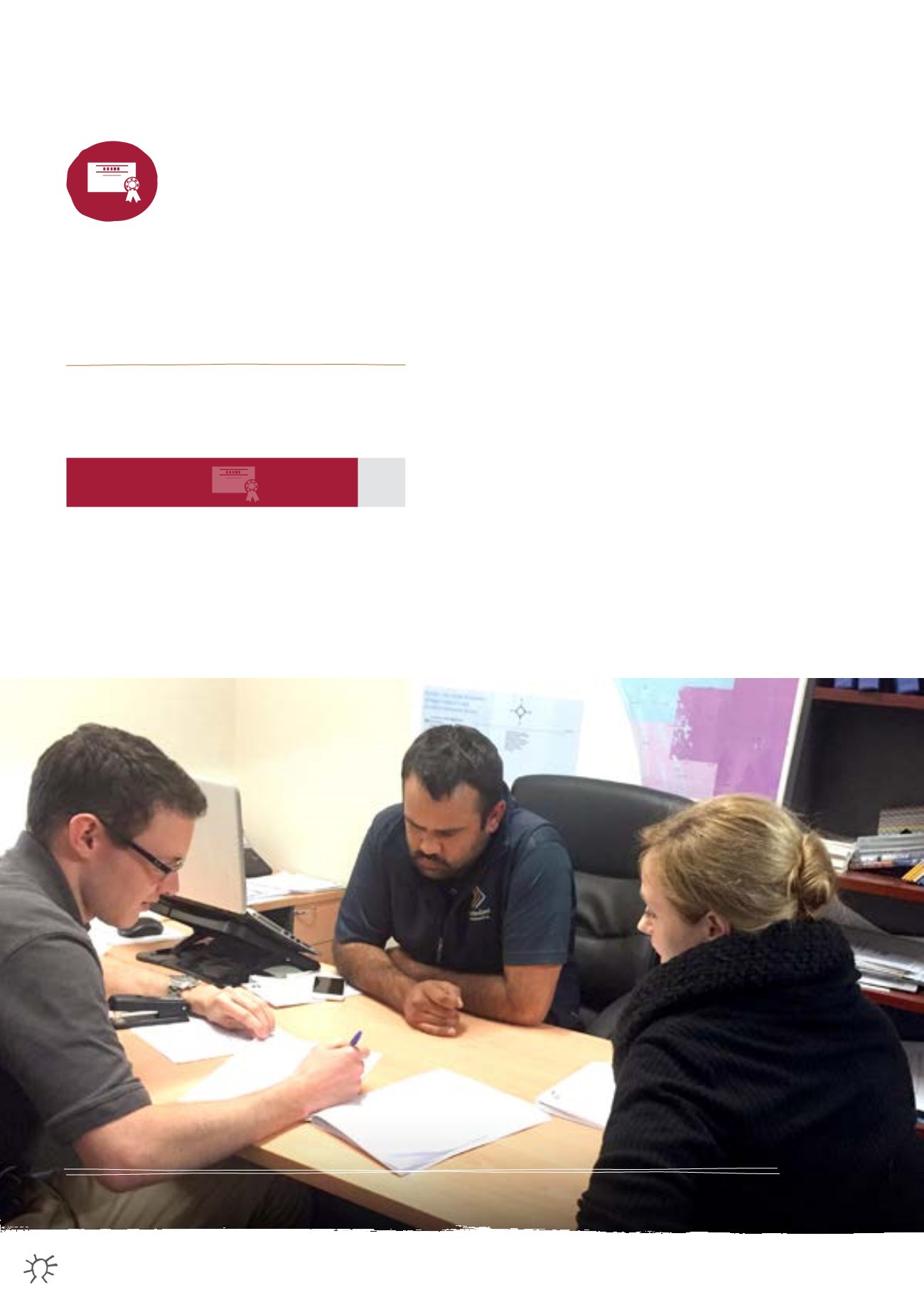 From left: Woodside secondee Chris McNamara, Ngarrindjerri leader Luke Trevorrow, and EY secondee Kirsten Bernhardt, 2016.
Skills
Hard or soft, formal or informal, 'skills' are
the tools of professionalism, expertise and
capability required by staff to carry out an
organisation's purpose.
When KPMG looked at Jawun's role in
strengthening organisational capacity, they found
that as a result of the partnership with Jawun:
organisations reported an uplift in skills
86%
>
SOURCE: KPMG (2015),
IMPACT EVALUATION OF JAWUN
, EXECUTIVE
SUMMARY, P. 3.
Darkinjung Local Aboriginal Land Council
When Gamilaraay man Allan Beale became Health,
Safety and Environment Project Officer at Darkinjung
Local Aboriginal Land Council, he stepped into
a very broad and demanding role. Telstra's Phill
Cosmo worked alongside him as a mentor, seasoned
manager and team leader, and they tackled the
task together. Through coaching on information
management, Allan created an improved reporting
process that streamlined his work, and Phill's
knowledge of organisational compliance helped him
develop a much stronger risk management system
for Darkinjung.
Allan gained a lot of confidence from the range of
new processes and improvements they devised
together. When the secondment ended, he said,
'This was a great opportunity for me to learn from
someone who has a lot of skills, and use them to help
me do better in my job … And that's what I'm trying
to do now day to day.'
The two men continued to speak regularly in a way
that maintained skills transfer and a firm friendship.
A year after the secondment ended, Allan said the
secondment 'was the best thing for me. It made me
more confident and more in control in this position.'
32 JAWUN 
2017 LEARNINGS AND INSIGHTS