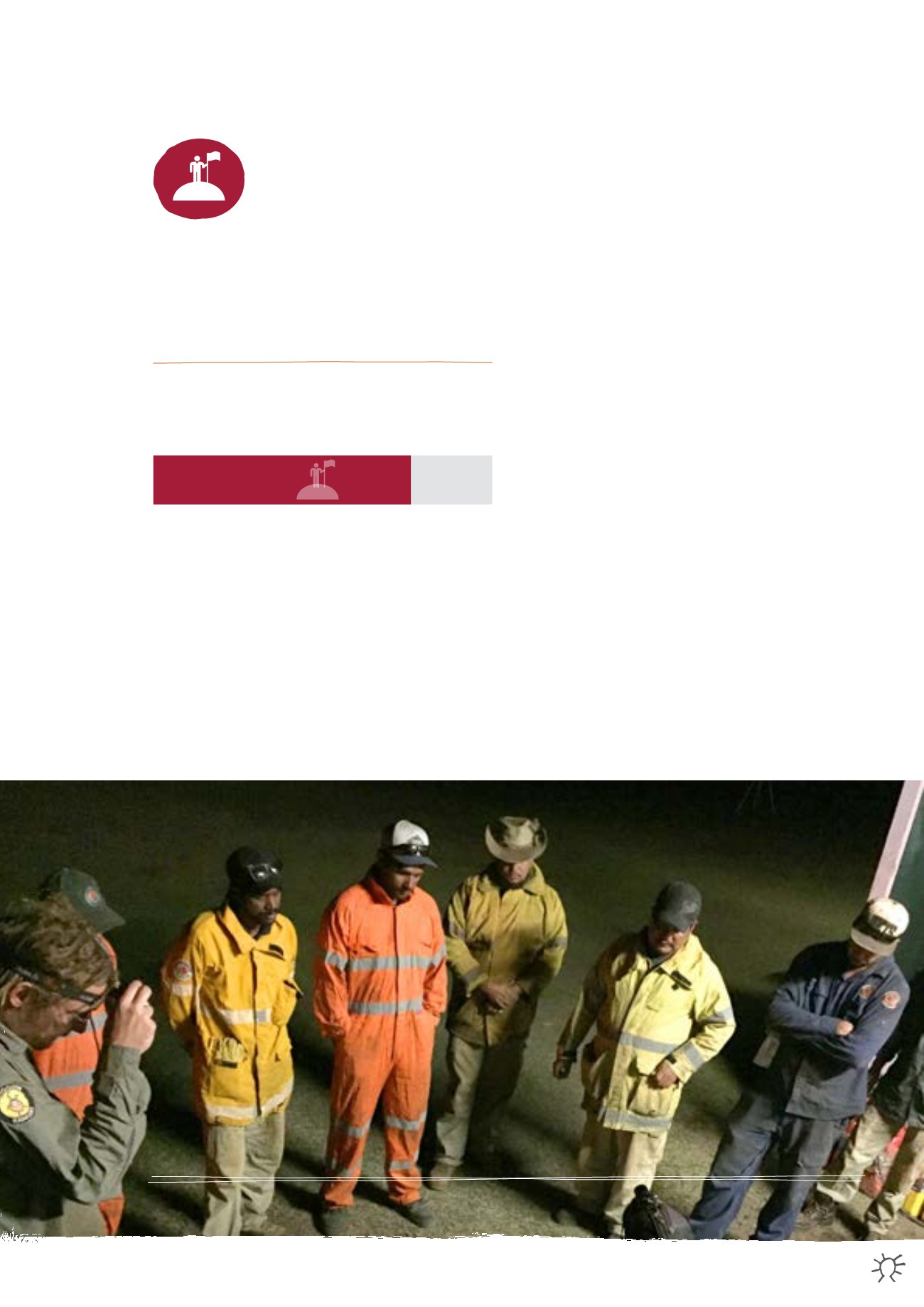 Kimberley rangers in a planning meeting during the Gibb River complex wildfire, 2016.
Photo: Kimberley Land Council
Strategy
From a clear mission and values to a
comprehensive strategic plan, 'strategy' means
an organisation knows its purpose and how it
will achieve it.
When KPMG looked at Jawun's role in
strengthening organisational capacity, they found
that as a result of the partnership with Jawun:
of organisations reported an uplift in strategy
76%
>
SOURCE: KPMG (2015),
IMPACT EVALUATION OF JAWUN
, EXECUTIVE
SUMMARY, P. 3.
Kimberley Land Council
The Kimberley Land Council helps Indigenous people
apply their cultural values and land management skills
to businesses, for a sustainable economy on country.
A series of Jawun secondees helped Kimberley Land
Council establish a 'cultural enterprise economy' to do
just this, culminating in a Cultural Enterprise Hub. They
applied professional corporate expertise to the set-
up of the hub's governance structure, financing and
staffing plan, marketing and brand. They developed
business cases or policy recommendations for new
enterprises, and strengthened (and sometimes
challenged) existing ones. All this was aligned to
Kimberley Land Council's strategic vision for a cultural
enterprise economy.
Today the Cultural Enterprise Hub is best known for
managing the Kimberley Ranger Network, which
employs over 80 people to manage their traditional
lands. It also facilitates the internationally recognised
North Kimberley Fire Abatement Project, which draws
on traditional fire practices to generate saleable
carbon credits. With a pipeline of new enterprises
in development, the hub is proving that, driven by a
strong strategy, it truly can help Indigenous people in
the Kimberley participate in the 'real economy' in
ways that also generate environmental, cultural and
social outcomes.
Nolan Hunter, CEO of Kimberley Land Council, is glad
to have reached this point with the help of borrowed
experts: 'Each secondee brings us one step closer to
our goals. We see great value to our organisation in
the skills they bring and their "fresh eyes" perspective.'
2. STRENGTHENING INDIGENOUS ORGANISATIONS 27