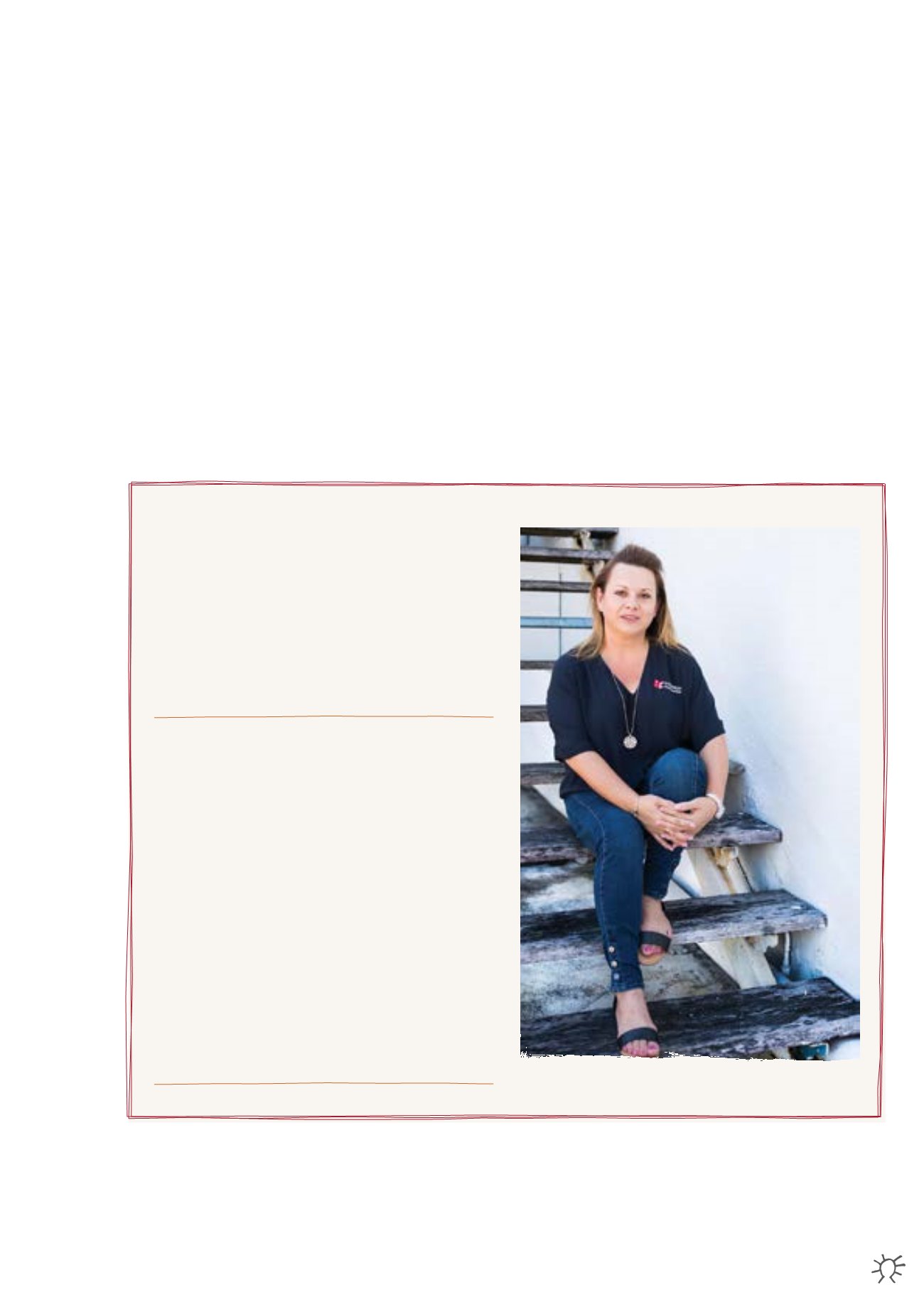 Female Leadership network—
Kirsty Broderick
One woman who is part of the Stories of Female
Leadership forum is Kirsty Broderick, Deputy CEO
of the Cape York Land Council. Kirsty was also
connected by Jawun to Chief Executive Women,
a development initiative based on the related
principle of 'women leaders enabling women
leaders'. Explaining why and how these interrelated
opportunities are so valuable, Kirsty says:
I am the only female in the management group of
the Cape York Land Council. It's lonely at times—
challenging norms, attitudes and the 'usual way
of doing business' in a male-dominated space.
I did have a small network of like-minded females,
but this opportunity provided by Jawun extended
that more than I could ever have imagined.
I am now part of a network of strong women who
support each other through professional and
personal achievements as well as hurdles.
The strength of these networks is life changing.
They support and encourage you when you are in
doubt, and are your cheerleaders to remind you
of how far you have come.
I now feel a responsibility to ensure that such
opportunities are extended to other women.
I am stronger now than I have ever been.
Kirsty Broderick.
Photo: Caden Pearson
In 2017, Jawun drew on inputs from across the
network, and from a small design team of Indigenous
and non-Indigenous women, to plan a much larger
gathering. This will be held towards the end of
2017 at the site of Jawun's beginning: Mossman
Gorge, Cape York. KPMG's U-Collaborate team, who
supported Stories of Female Leadership throughout,
worked with the design team on a gathering that
would tease out how this unique network would
serve its purpose. Female traditional owners from
Mossman Gorge designed an enriching cultural
experience combining art, guided walks and
storytelling. These women gave the network a name
in their Kuku Yalanji language:
Jalbu jalbu
. Literally,
these words are the plural for women. Symbolically,
they stand for the power of women brought together.
Stories of Female Leadership began on the basis that
many Indigenous women find leadership demanding,
thankless and unguided, while also feeling compelled
and motivated to step into it. Events held since
it began have revealed, first, that this is not their
challenge alone; and second, that connecting with
other women can be a vital source of support,
solutions and succession planning. This unique
network of women is a powerful and exciting group
to watch.
1. EMPOWERING INDIGENOUS LEADERSHIP 21