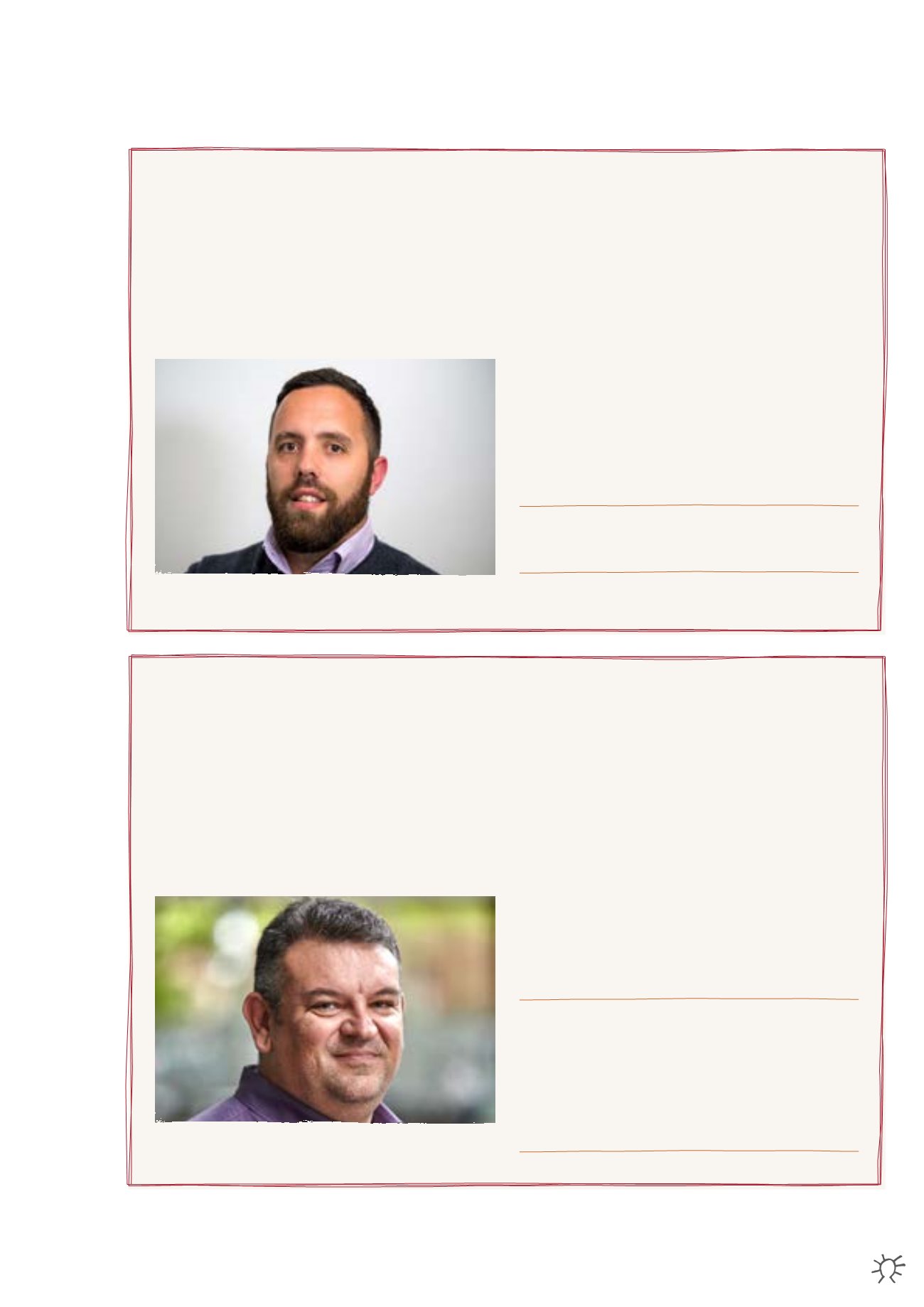 Indigenous Corporate Leadership
program—Chris Ingrey
Chris Ingrey is of Dharawal and Dhungutti descent,
and is co-chair of Inner Sydney Empowered
Communities. Until recently, Chris was CEO of the La
Perouse Local Aboriginal Land Council. Over the past
12 years he has navigated a range of management
and governance issues, and rebuilt community trust.
Partly through working with Jawun secondees, Chris
had come to realise that his goal of building a secure
community with quality services and mainstream
economic opportunities would need a foundation of
support from government and corporate Australia.
He entered the Indigenous Corporate Leadership
program with a desire to get better at managing
government relationships and influencing corporate
and government decision-makers. In his words, he
wanted to understand 'influence, at all different
levels, and how that happens in a corporate context'.
Chris was seconded to Qantas as Industry
Relations Manager in the Government, Industry and
International Affairs department.
Reflecting on a long list of professional and
management skills he would take back to his
community in La Perouse, Chris said the secondment
has allowed a constructive distance, which supported
his personal development as a leader:
The distance allows for reflection. I can shift from
thinking operationally to strategically for La Perouse.
Indigenous Corporate Leadership
program—Brad Cooke
Brad Cooke is a Bidjigal man from La Perouse who
was a Jawun regional director for seven years before
being seconded to Commonwealth Bank as Manager,
Emerging Technology. Brad had witnessed dozens
of secondees give, learn and transform, and seen
Indigenous organisations and staff do exactly the
same but in different ways. With this in mind, there
were a range of professional and leadership skills
he hoped to strengthen, chief among them project
management and how to successfully pitch new
enterprise ideas to get support for them.
Within the Emerging Technology team, Brad was
exposed to the hard skills of corporate management
and forced to navigate a new world of corporate
norms. He also played a lead role in a team working
on tech-based solutions for future banking needs,
using blockchain technology, artificial intelligence
and augmented reality. One key project targeted
Indigenous recruitment by looking at remote 'pods'
for Indigenous trainees and staff to be able to work
in their communities rather than travel to cities or
to branches. In that way, they could stay connected
to country in their own areas, and contribute to the
community while working for the bank.
Of a rewarding and challenging time not yet over,
Brad said:
It's been a really exciting, creative area for me to be
in, and completely new for me. I've learned about
customers, about people in general, and ultimately
about what the future might look like. Hopefully
I've learned important project management skills
that I can take back into the community, to benefit
not just me but my community overall.
Chris Ingrey.
Photo: Ngakkan Nyaagu
Brad Cooke
1. EMPOWERING INDIGENOUS LEADERSHIP 19