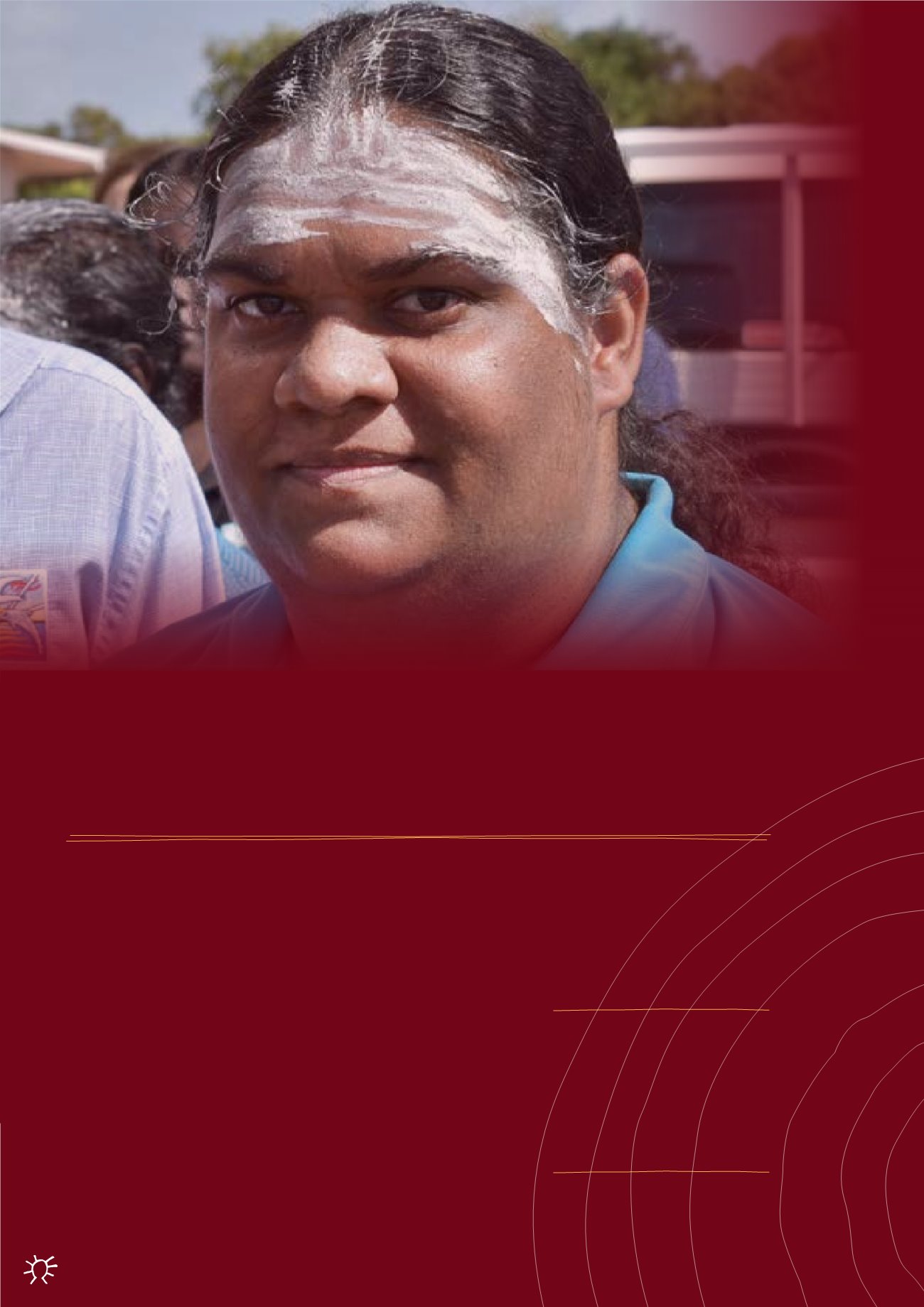 Rarrtjiwuy Melanie Herdman is a
young Yol
ŋ
u woman from Arnhem
Land. Rarrtjiwuy participated
in the Jawun Emerging Leaders
program in 2015, and soon after
became acting CEO of Miwatj
Health Aboriginal Corporation. She
is also chairperson of Dhimurru
Aboriginal Corporation.
One of Rarrtjiwuy's first jobs was
Aboriginal liaison officer at Miwatj
Health. She is proud of what
the organisation stands for, an
Aboriginal community–controlled
health organisation and a truly
culturally accessible service for
Yol
ŋ
u people. As well as acting
as CEO, Rarrtjiwuy manages
an all-Yol
ŋ
u team delivering
a community-based program
promoting healthy lifestyles
and tackling smoking as part
of chronic disease prevention.
Rarrtjiwuy works regularly with
Jawun secondees, who have
supported the organisation's
success and expansion since 2014.
Miwatj's statistics speak for itself:
attendance rates at its clinics are
among the highest in the region
.
18
Another of Rarrtjiwuy's early
roles was at Dhimurru, which
manages the Indigenous Protected
Area in the Gove Peninsula and
recreational areas on Aboriginal
land. Dhimurru is also a long-
running partner of Jawun, using
Jawun secondees to strengthen
its workplace safety and develop
cultural tourism ideas. The
organisation's approach to natural
and cultural heritage management
impressed Rarrtjiwuy deeply:
I loved the way Dhimurru
took a role to look after the
land while also keeping it
in the state that our elders
walked on, and sharing that
country with non-Indigenous
people by having recreational
areas that we manage.
Rarrtjiwuy Melanie Herdman—
a rising Yol
ŋ
u voice
CASE STUDY
Rarrtjiwuy Melanie Herdman.
Photo: Miwatj Health
14 JAWUN 
2017 LEARNINGS AND INSIGHTS