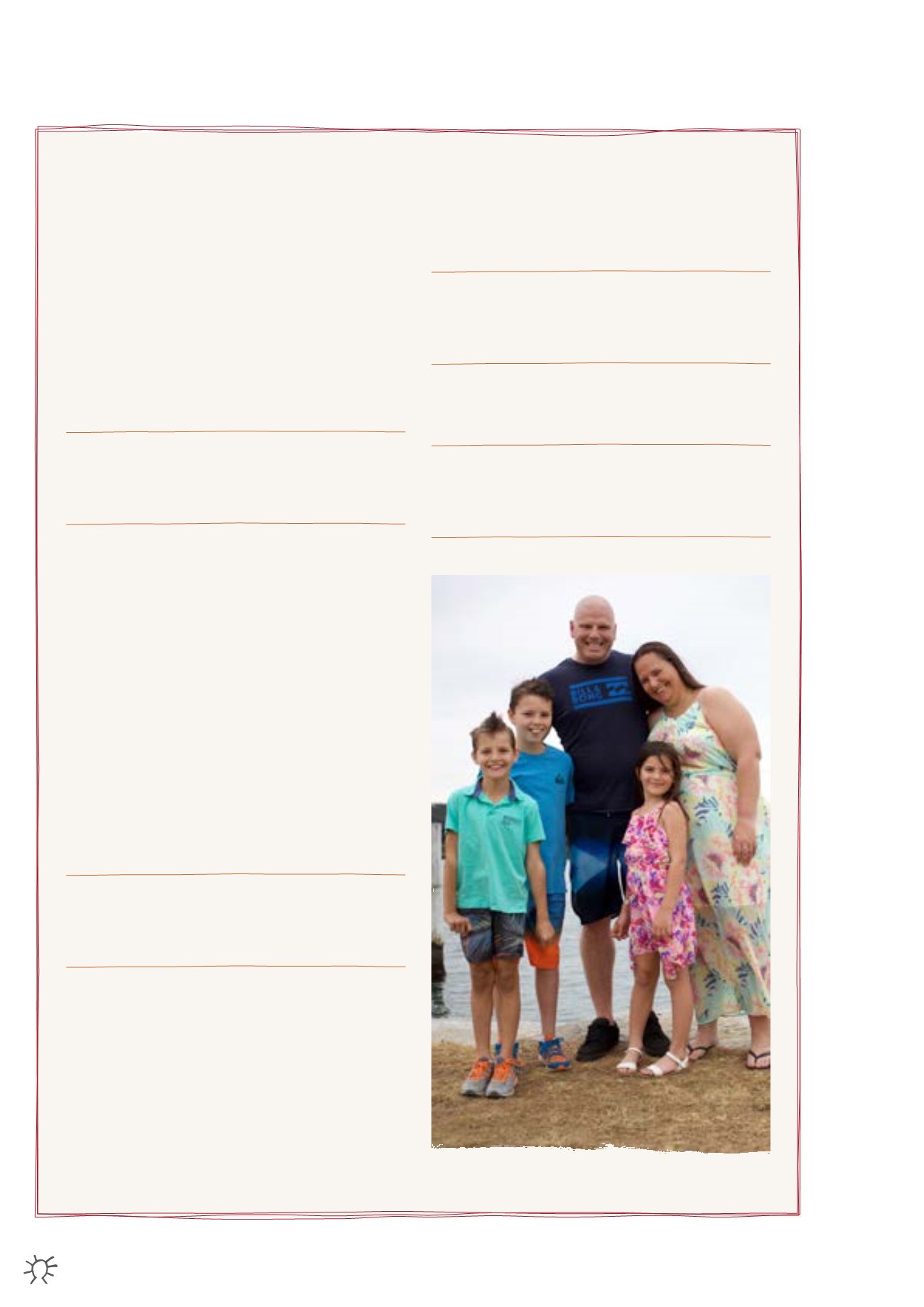 From opportunity to empowerment—Megan Wilkin and her family
Megan Wilkin is a young Indigenous mother and
member of Darkinjung Local Aboriginal Land Council.
Her life took a series of upward turns after she asked
Sean Gordon for a reference for social housing.
Instead, he urged her to apply for Darkinjung's
affordable housing program. Megan was 'shaking'
with nerves when she applied, but before long the
family had moved from a cramped home causing
financial stress, to a four-bedroom house with a big
backyard that cost substantially less.
Through Darkinjung, the family was notified about
Darkinjung Barker. Megan wasn't sure:
I just thought it was an old boys' school and
we nearly didn't do it. I um'ed and ah'ed but
in the end I thought, 'What's the worst that
can happen?'
All three of Megan's children enrolled. Now the
Darkinjung Barker bus picks them up and drops them
home every school day. Benefiting from small class
sizes and dedicated teaching resources, they are all
improving in their subjects, and are loving school.
The school identified that Megan's eldest son had
attention deficit hyperactivity disorder (ADHD),
which his previous school had missed, and a bespoke
learning program was developed. This is paying off;
he recently won 'Writer of the Week' for writing two
full pages. For Megan, a mother who had seen him
'falling through the cracks' at his previous school,
'that was a big win, a day to treasure'. She was proud
on Superheroes Day when he dressed as a doctor, his
new ambition.
Culture plays an important role in the curriculum at
Darkinjung Barker, 'where children learn to celebrate
their aboriginality'
.
53
This impacted Megan too:
When the kids come home and tell me things
about our heritage and culture, it makes me
proud to be part of that, and proud to know
they're learning stuff I was never able to.
Darkinjung Barker aims to include parents and
community members in school life and both Megan
and her husband Shane enjoy volunteering. Shane
aims to train as a teacher's aide and complete his
placement at the school. Megan's confidence grew
and after 10 years raising children she considered
work options. She joined the Commonwealth
Bank Indigenous traineeship scheme that Sean's
partnership had initiated, completed the traineeship,
then used her new-found skills and confidence to
successfully apply for the finance officer role at
Darkinjung. As Megan says, 'It's all fallen into place!'
Megan hopes most students will be eligible for
a scholarship to Barker College in the future. She
is amazed:
I don't think people realise the enormity of what's
happening. There's only 28 kids but what it's
doing is life-changing. Not only for the kids, for
the families as well.
From a simple trigger—Sean's advice, backed by real
opportunities he forged through collaborations—a
whole family is transforming. Megan says:
You don't realise what you're capable of until
you're given the chance to be capable. I look back
and think of certain people who didn't believe in
me. And I think, if only you could see me now.
Megan Wilkin and family.
Photo: Frederic Courbet
68 JAWUN 
2017 LEARNINGS AND INSIGHTS