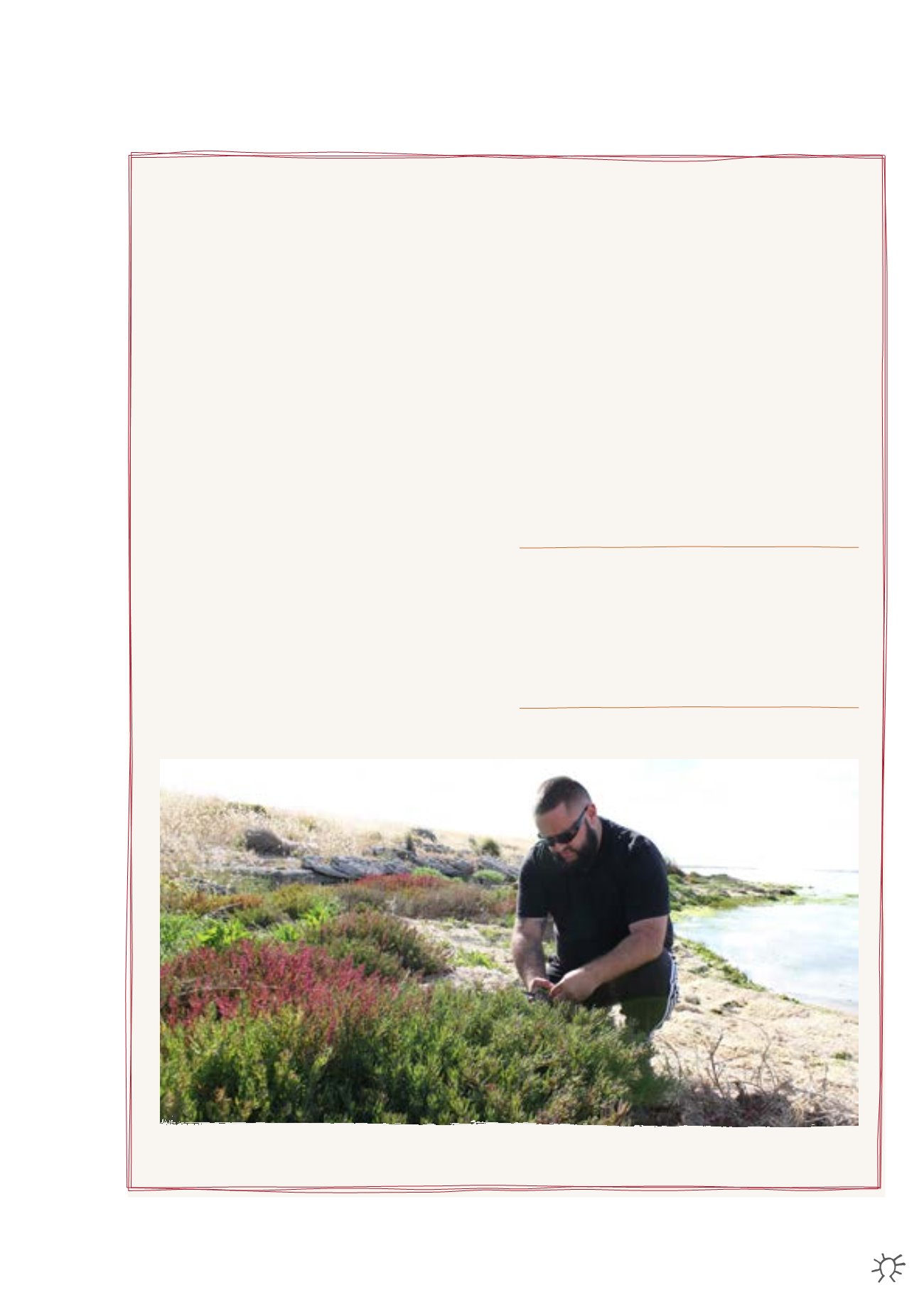 Indigenous-led enterprise—Wild Eats
In Lower River Murray, the Ngarrindjeri people have
a long and proud history as traditional owners and
custodians of land and waters. Their vision is for the
Ngarrindjeri people, children and descendants to lead
healthy lives on healthy country.
The Ngarrindjeri operate three plant nurseries
on country. After receiving government funding
to revegetate the region following drought in
2009, they became significant employers of local
Indigenous people. The Ngarrindjeri Regional
Authority's long-term aim was to commercialise
the nurseries and continue to support jobs for their
people to preserve their country.
A series of secondees supported three Ngarrindjeri
Regional Authority organisations on this project.
A senior business analyst at the Royal Automobile
Association of South Australia developed a business
case for increasing revenue, reducing expenses and
improving nursery efficiency. A communications
manager at the South Australian Government
devised a retail brand for the nursery, 'Wild Eats'.
Four further secondees, fromWoodside, EY (formerly
Ernst & Young) and Bank SA, began implementing
the business case. Funding to the value of $540,000
was secured for the existing nursery facilities to enter
retail and wholesale markets, and for supporting the
ongoing revegetation projects.
A corporate affairs adviser at Woodside
developed a native herbs, spices and greens
range, with a marketing strategy and new website,
www.wildeats.com.au.
A project engineer at
Woodside helped scope out planning requirements
for wild harvesting and intensive farming.
Then, connected to a philanthropic network by a
Jawun board member, a business development
manager at the South Australian Government helped
the nurseries pitch to Australia's largest wildflower
exporter. Wild Eats became one of its cut flower
suppliers in a six-week trial partnership expected to
lead to a formal joint venture with an initial
106 new jobs for Ngarrindjeri people. With skills
and assets growing in response to the partnership,
the opportunity is expected to increase future
engagement in the wildflower market.
Luke Trevorrow, former Chief Operations Officer
of Ngarrindjeri Ruwe Contracting, explained the
significance of the secondees' work:
The secondees' efforts will allow us to grow
and employ Ngarrindjeri to work on our lands
and waters, which our people have done for
thousands of years. The funding they helped
secure supports us to develop our Wild Eats line
of native food and medicinal products, and to
keep planting on our country and contributing to
the health of our lands and waters.
Kevin Kropinyeri harvesting for Wild Eats, 2017.
Photo: Sally Knight
3. ACCELERATING INDIGENOUS-LED ENTERPRISE 41