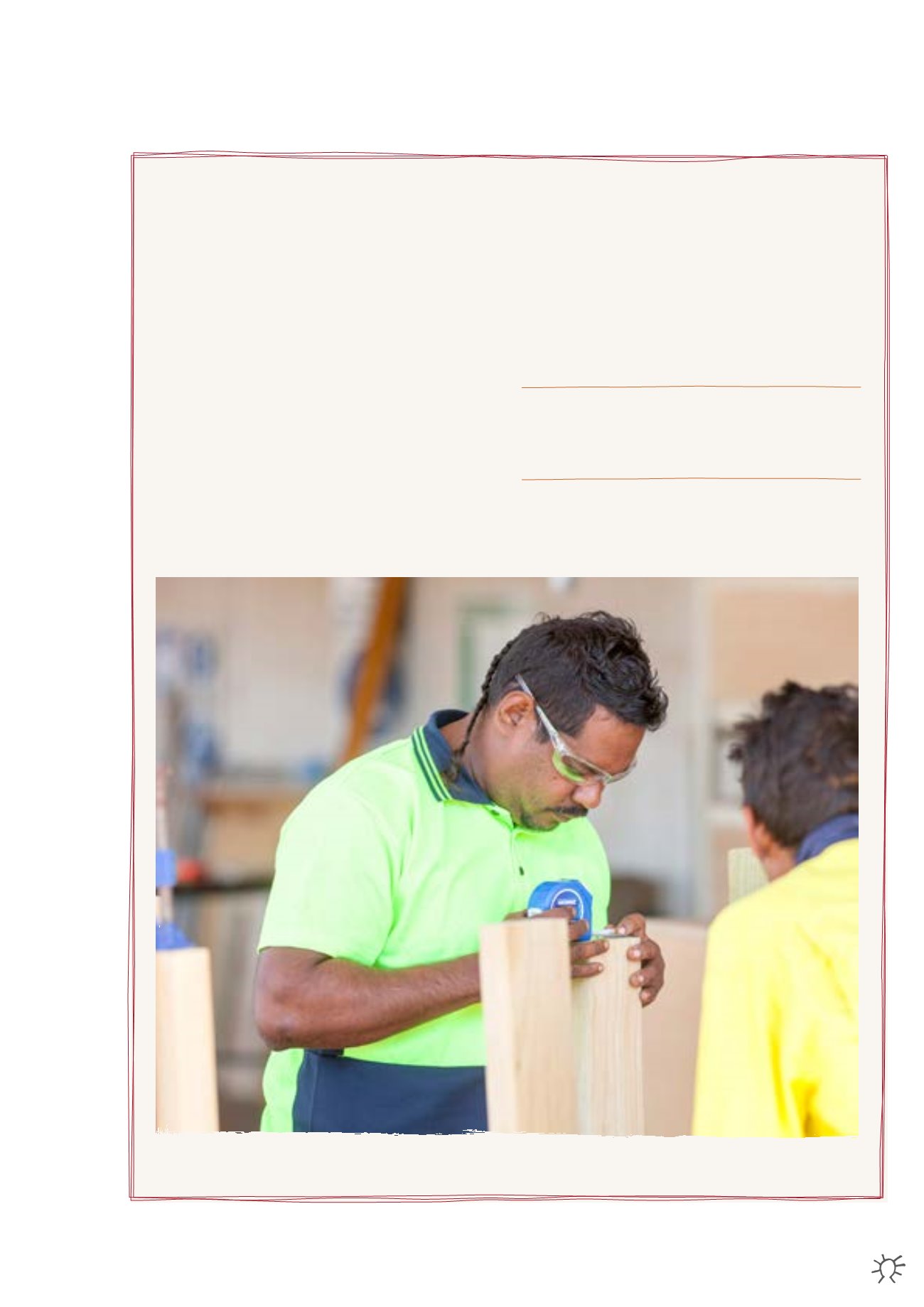 Empowered Communities in the East
Kimberley
In the East Kimberley, strong Indigenous leadership
and existing welfare reform initiatives—notably
transitional housing and the cashless debit card—
were the backdrop to Empowered Communities.
Coordinated by backbone organisation Binarri-Binyja
Yarrawoo Aboriginal Corporation, the region's
12 opt-in organisations that have worked with
communities to agree on employment and education
as first priorities.
In line with first priorities, low rates of employment
and job readiness are being tackled through a
'100 Jobs' project in Kununurra and Wyndham. An
Empowered Communities and Western Australian
Government partnership for coordination of a $200m
North West Aboriginal Housing fund will provide
access to housing, accompanied by 'wraparound'
services that support health, education, employment
and ultimately a pathway off welfare.
Binarri-Binyja Yarrawoo Aboriginal Corporation
is synthesising regional priorities around housing,
employment, education and community safety in a
development agenda for the East Kimberley. Based
on strong evidence, this will be used to support
decision-making with government on funding
and programming.
Empowered Communities leader (and CEO of
Kununurra Waringarri Aboriginal Corporation)
Desmond Hill is excited by the collaboration
achieved:
It's been the best collaboration we've had here
to date, and we want to use the success of that
to encourage de-siloing in government too. If we
can do it, anyone can do it.
Over 30 Jawun secondees have supported
Empowered Communities in East Kimberley
.
44
Cedric Cox, East Kimberley Job Pathways.
Photo: Frederic Courbet
4. ENABLING INDIGENOUS-LED REFORM 55