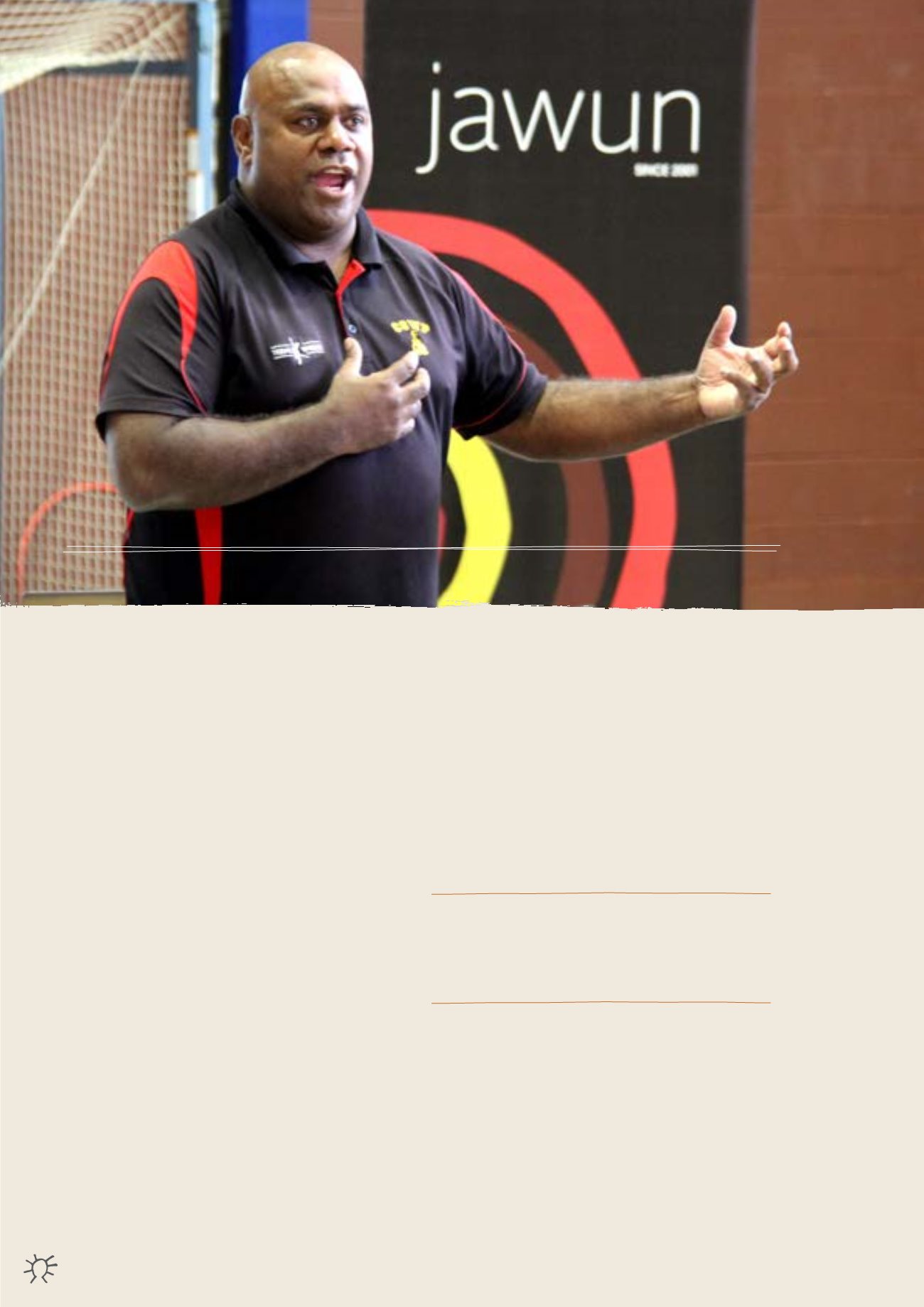 Shane Phillips, Tribal Warrior Aboriginal Corporation—
building a strong community in inner Sydney
Tribal Warrior Aboriginal Corporation is a not-for-
profit community organisation based in Sydney's
Redfern. It has been a Jawun partner since 2010.
Jawun recognises that capacity building can only
ever amplify an organisation's existing efforts, and
does little if the organisation itself is fundamentally
dysfunctional. For this reason, Jawun has strict
criteria to ensure that partner organisations are
Indigenous-driven, place-based, and focused on
addressing community needs. Tribal Warrior meets
all these criteria.
CEO Shane Phillips says Tribal Warrior began 'when
a couple of old men from the area picked the people
going through real dysfunction and told them, "You
have to be the solution, you have to be the ones who
show our mob that we can fix it".'
Drug use, family problems, illiteracy, intergenerational
poverty and chronic lack of self-esteem—the first
cohort's problems were not small. But one by
one, they gained a Master 5 certificate in maritime
operations and achieved more goals—from
learning to read and write to securing jobs and
further qualifications. Shane also teamed with
Superintendent Luke Freudenstein from Redfern
Police Station to initiate a preventative program,
Clean Slate Without Prejudice, which offered
regular boxing training and mentoring sessions to
young people.
Despite a powerful concept and committed staff,
in 2010 Tribal Warrior nearly dissolved financially. It
could not rely solely on individuals, but needed to
build systems and embed skills. Shane remembers
how a timely partnership began:
Jawun made us look at all different dimensions
of the business and how it worked. We had a
lot of people with good intentions and total
commitment to the organisation, but they lacked
skills. And Jawun gave us those.
Since 2010, over 40 skilled government and
corporate employees have worked at Tribal
Warrior through Jawun. They came from some of
Australia's best known companies—Qantas, Westpac,
Wesfarmers, KPMG, QBE, Allens, Norton Rose
Fulbright—and from major government agencies.
They used their skills and experience to support
the organisation's evolving model. Enabling rather
than directing, they helped design, implement and
FEATURE
Shane Phillips
34 JAWUN 
2017 LEARNINGS AND INSIGHTS